Semiconductors in Canada: An Investment Case
Doyletech Corporation recently completed a comprehensive investment case on the Canadain semiconductor ecosystem for Global Affairs Canada (GAC).
The analysis suggests Canada can, and will, play an even larger role in the semiconductor supply chain going forward. The research illuminated Canada's unique assets and abilities, and served to demonstrate the role that Canada can assume in the Clean Semiconductor Supply Chain and as the Neighbouring and Allied-Friendly Country Shoring Destination for Semiconductor FDI.
"Several chip technologies continue to merge, and this is where Canada's Semiconductor Clusters really excel (specifically, at the apex of photonic-quantum-artificial intelligence chip technologies)."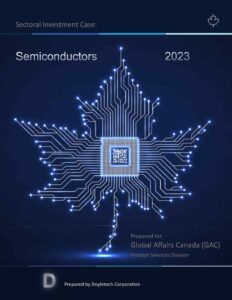 Canada is rich in critical minerals – specifically gallium and tellurium – that are essential inputs for semiconductor components. Canada's freshwater resources constitute 20% of global supplies supporting water-intensive semiconductor production processes.